---

2008 National Dairy Shrine
Progressive Dairy Award Winner - over 300 cows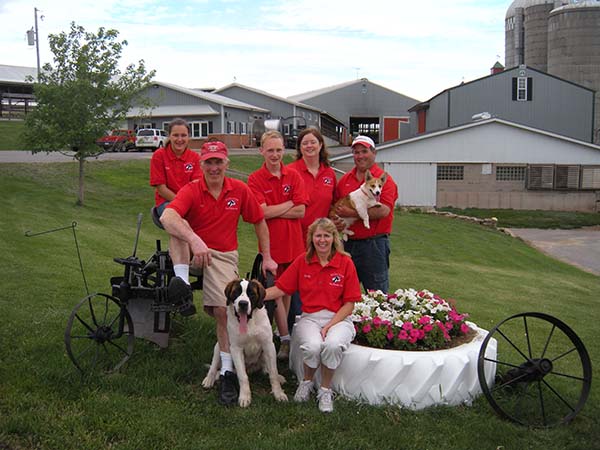 The Keller family - June, 2012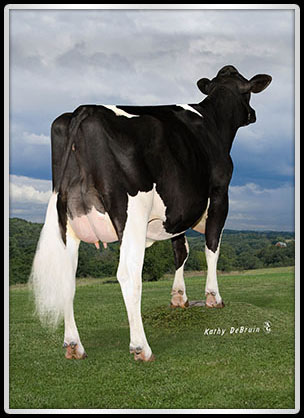 Kellercrest Rbst Labella-ET


GP-83 VG-MS
2-0 3X 271d 28066 4.4 1238 3.2 910
8/14 GTPI +2282; Top 100 GTPI Cows

Pregnant to Kingboy and due 3/15/15 with a ultra-sound heifer!

Maternal sister to Labella:


Kellercrest Manoman Lacy-ET


VG-85 @ 2-09
12/13 GTPI +2215
Lacy's sons in AI:
Kellercrest Lancome-ET @ Semex GTPI +2416
Kellercrest Moxer Laser-ET @ Select Sires GTPI +2374
Butz-Hill Versatile-ET @ ABS GTPI +2361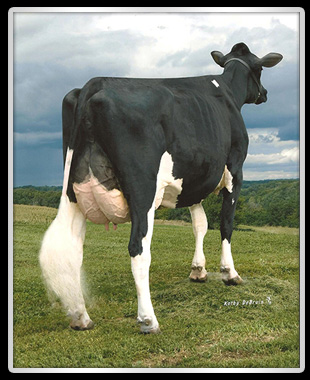 Kellercrest Toystory Lady


VG-87 DOM
2-01 2x 365d 36,760 3.8 1407 3.1 1156

Dam of Labella and Lacy!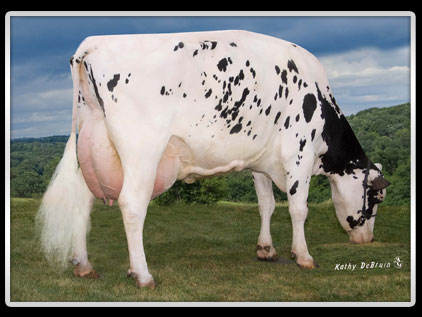 Kellercrest Shottle Loni-ET


Excellent – 92 2E DOM
8/13 GTPI +1879 PTA +1004M +22F +24P
PTA +2.06T +1.34UDC +1.83FLC
2-00 2x 365d 34,145 3.5 1180 3.0 1023
3-05 2x 365d 41,493 4.2 1732 3.0 1225
5-02 2x 365d 47,868 4.2 2017 3.0 1439


6-09 3x 365d 57,129 5.3 3030 2.9 1633




Congratulations to Loni - the Wisconsin Top Performer Cow
She was the Top Performer in the 6-9-Year-Old Cow class and the Overall Top Performer Winner
Loni just finished a very impressive record with 57,000M and over 3000 lbs Fat
Loni now has milking daughters by Active, Planet, Man-O-Man, Super, Les, Bronco, Sebastian and Gerard. She has calves by Armitage and Latroy.
She is pregnant to Bronco and due again 3/13/2014
Loni has 12 sons in AI and several daughters that have genomic tested very well
Her Super son at Select Sires - Kellercrest Super Layne-ET
We were delighted to have Loni featured in a Holstein International article - read it here!
Sadly, we lost Loni to cancer on November 11, 2013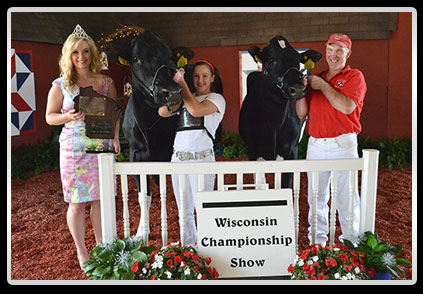 All-Wisconsin Dam & Daughter 2013
Kellercrest Sanchez Bridie - Senior 3-Year-Old
Kellercrest Goldwyn Beauty - Fall Yearling

Bridie is now EX-90 @ 5-1
Kellercrest Goldwyn Beauty is now VG-87 @ 3-1
Mission-Bell Bolton Dezi-ET is now Ex-90 2E
Bridie won the production award in her class at the State Show
and was also the Grand Champion at the 2013 Dane County Fair!

Owned by Kimberly Keller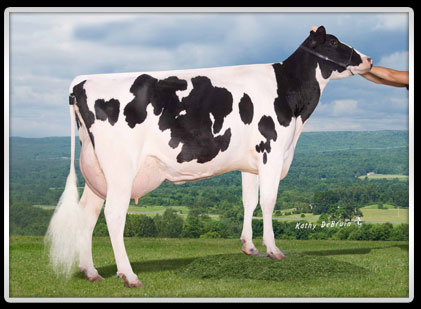 Kellercrest Planet Lynch-ET
VG-89
4-07 3X 306d 42180 3.4 1414 2.8 1182
On her way to making another great record!

Due 1/15/15 to Bombero
Milking daughter of Shottle Loni, pictured above!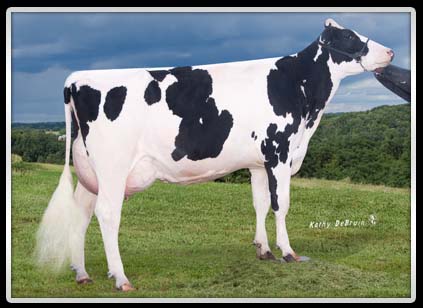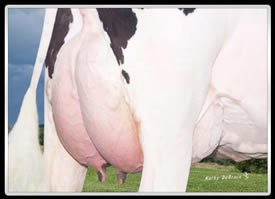 Mission-Bell Bolton Dezi-ET
Excellent-90 EX-91-MS 2E @ 5-04
4-11 3X 365d 49,257 4.2 2082 3.0 1480


A Bolton daughter from Mission-Bell B Iron Direct 2E-93 DOM
Dezi completes seven generations of Excellent cows!
Dezi has several AI and embryo contracts
Dezi has daughters by Observer, Robust, Shamrock and Bolo.
Dezi was fresh on 3/3/2013 with Kellercrest Supersire Darva. Darva has a GTPI of +2295
Dam: Mission-Bell B Iron Direct EX-93 2E
• EX James sister
2nd dam: Mission-Bell Outside Dasher EX-93 2E DOM
Life: 140,140M 6360F 4127P
• Four Excellent daughters
3rd dam: Mission-Bell Broker Dapple EX-92 4E GMD
Life: 235,680M 1011F 7161P
4th dam: Mission-Bell Astro Jet Deborah EX-91 2E
Life: 216,640M 8529F 6429P
5th dam: Mission-Bell Jetstar Dynasty EX-92 3E GMD DOM
Life: 212,100M 7812F 6276P
6th dam: Mission-Bell Milo Dixie EX-94 6E GMD DOM
Life: 288,470M 11370F 6627P
7th dam: Kleinhans Donna Star VG-86 GMD DOM
Life: 157,590M 6120P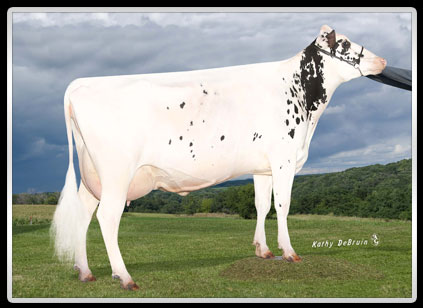 Kellercrest Freddie Liza-ET
VG-85 VG-MS
GTPI +2124
2-02 3X 329d 32,194 3.9 1243 3.0 976 RIP


Freddie x Planet x Shottle Lani
Bred to Chaps and due 4/9/15
*Liza has a Lithium son at Accelerated Genetics




New Additions to Kellercrest!

Rickland Numero Uno 4519-ET
Born: January 5, 2013
8/14 GTPI +2435
Pregnancies to Monterry & Kingboy!
Short bred to Boastful
Dam: Welcome Russell Lisbeth-ET VG-87, 2yr
2nd dam: Welcom Baxter Laila-ET EX-91


Regancrest Mgul Breshana-ET
Now VG-85 @2-3 just 28 days fresh and milking 106 lbs. on her first test
Born: July 17, 2012
8/14 GTPI +2385
Just fresh on 9/7/14 with a More Gold Heifer calf and she looks great!!!
Dam: Regancrest Mac Breshan-ET
From the Barbies!




Other New High Index Cows

GTPI +2182

Weigeline Paul Saint-ET
Fresh on 7/21/14 with a Wanka heifer (GTPI +2296)!



GTPI +2143

Kellercrest Peoti Larisa-ET
Peoti x Super Latika x Shottle Latavia
Now VG-85 @ 2-6



GTPI +2126

Kellercrest Robust Darcy-ET
Now VG-86 @ 3-2
2-0 3X 354d 37855 4.2 1579 3.1 1156
Due 10/24/14 with a Racer Heifer
Robust x Bolton Dezi 



GTPI +2112

Kellercrest Gallon Martigra
VG-85
2-02 3X 272d 29815 3.4 1022 2.9 854
Bred to Flame and due 5/7/15!



GTPI +2062

Butlerview JeChip-ET
Now VG-86 with 88 point MS @ 2-7 ; and 102#'s, 103 #'s & 100 #'s on her last 3 tests. Goldchip from Coyne-Farms Freddie Jeven VG-87
Fresh on 6/6/14 with a Racer heifer calf


High Genomic Heifers at Kellercrest
GTPI +2461
B: 6/18/14
Kellercrest Flame Breana-ET
Flame x Reagancrest Mgel Breshana-ET
GTPI +2440
B: 12/18/13
Merkline Doorman Pallas-ET +3.96 Type
Doorman x Merline Iota Penya
GTPI +2435
B: 1/5/13
Rickland Numero Uno 4519-ET
Uno x Russell x Baxter
GTPI +2319
B: 9/1/13
Kellercrest Cashcn Lizzy-ET
Cashcoin x Robust Labella x Toystory Lady
GTPI +2317
B: 5/17/14
Kellercrest Jabir Lauren
Jabir x Proper x Man-O-Man x Shottle Loni
GTPI + 2314
B: 9/3/13
Kellercrest Maurice Susie ET *RC
Maurice x Dinomi MOM Snow Bunny-ET *RC
GTPI +2312
B: 12/27/12
Kellercrest Para Carmax-ET
Paradise x Rugg-Doc Domain Carmikki-ET
GTPI +2311
B: 7/20/13
Kellercrest Maurice Molly-ET
Maurice x Gallon x Planet x Shottle
GTPI +2491
B: 1/5/13
Rickland Numero Uno 4519-ET
Uno X Russell X Baxter


High Lights from the Other Day
Kellercrest Man-O-Man Lamone-ET now EX-90@4-7
Kellercrest Shottle Fleta now EX-90@5-4
Kellercrest Boliver Juno now Ex-92 2E  @ 6-2
Kellercrest Skip Sazle now Ex-92 3E @ 12-0




---
Genomic Young Sires: Silver, Supershot, Delta, Montery, Kingboy, Octoberfest, MainEvent, Yoder, Boastful, Spark, Crank it, Montross, Entail, Lottomax & Flame along with several Kellercrest young bulls!
85 cows over 200,000
28 cows over 250,000
7 cows over 300,000
2013 Progressive Breeders Registry
and Progressive Genetics Herd Winner

RHA: 314 Cows 31652 4.0 1257 3.1 973
BAA: 105.2% - Top Ten highest in US for herd size